caprice taillight assembly 79

berettastormi

Newbie





Posts

: 2


Join date

: 2014-01-12


Location

: Germany

Hello from germany. I'm looking for 1979 chevy caprice sedan taillight assembly left and right.can anybody help? THANK you

GM B-Body Forum

Admin




Posts

: 747


Join date

: 2013-01-14


Age

: 27


Location

: Flint/Detroit, MI - Charlotte, NC

Welcome to the forum! I have not seen tail lights for the export models (non-US cars) but regardless it would be the same, just no yellow lenses. Ive seen a set on ebay a month or two ago, so you would have to keep an eye on that. I know since your in Germany, most likely it would ship from the US so shipping would be a little expensive, and a long wait. But i will keep an eye out for you!
_________________
1979 Caprice Sport Coupe, 400hp Vortec 350, Th350, GM 8.5 w/disc brakes, 3.90 gears Detroit Truetrac, 2.5" stainless duals w/ x-pipe, Dynomax race bullets.
1984 Caprice Sedan, 305 motor, 700r4
1978 Caprice Sedan, 305 motor, th350
1993 L99 Caprice, 4.3 v8, 4l60 trans
1972 Ford F-100, 302 windsor, c4 trans
2001 BMW E46 330i, 3.0L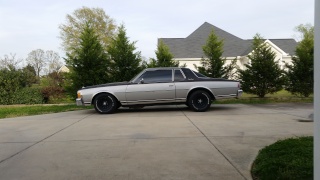 Sweet Seventy9

Co-Admin




Posts

: 973


Join date

: 2013-11-03


Location

: Upstate NY

Müssen sie die europäische Art sein oder können Sie die amerikanische benutzen?

Do they have to be the european style or can you use the american style?

_________________
1977 Impala Landau x1
1977 Caprice Coupe x3, Sedan x3
1978 Impala Landau x1, Sedan x2, Station Wagon x1
1978 Caprice Landau x1, Caprice Coupe x2
1979 Impala Coupe x2
1979 Caprice Coupe x7, Landau x4, Estate Wagon x1
1981 Impala Coupe x1
1983 Impala Sedan x1
1983 Caprice Sedan x1
1984 Caprice Landau x1, Sedan x1
1985 Caprice Coupe x1, Landau x3, Sedan x4
1986 Caprice Coupe x1, Landau x1
1987 Caprice Landau x1, Sedan x4
1989 Caprice Sedan 9C1 x4