GM 8.5 10 bolt swap from a 96 impala ss
After looking at the new master I see the rear part of the reservoir is larger , that makes it the primary, and the thread pitch is smaller 9/16 18 but the old primary line is 1/2 20.
O'Reilly has "standard to dual master cylinder" sae type adapter fitting (1/2 20-> 9/16 18 and vise Vera) but I will still need to cross the tubing so the run to the appropriate port on the combination valve
Admin




Posts

: 717


Join date

: 2013-01-14


Age

: 25


Location

: Flint/Detroit, MI - Charlotte, NC

I didnt know they switched the ports around, your best bet maybe to get some of those adapters, and perhaps a few pre flared lines from oreilly also, i would runs those lines just to the combi valve if you need to change the size of the lines, but if you can get away with just using adapters then that would be even better. When i do my brake swap im just going to use an ss and 9c1 master cylinder and convert all my lines to metric, im also going to get a combi valve from wilwood, and mount it just below the master cyl and off the frame.
_________________
1979 Caprice Sport Coupe, 400hp Vortec 350, Th350, GM 8.5 w/disc brakes, 3.90 gears Detroit Truetrac, 2.5" stainless duals w/ x-pipe, Dynomax race bullets.
1984 Caprice Sedan, 305 motor, 700r4
1978 Caprice Sedan, 305 motor, th350
1993 L99 Caprice, 4.3 v8, 4l60 trans
1972 Ford F-100, 302 windsor, c4 trans
2001 BMW E46 330i, 3.0L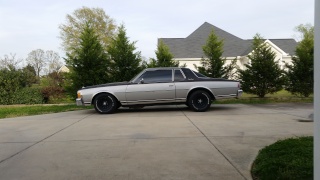 Well the difference between the master of the 90 Caprice and ss is 1 1/8 bore vs 1 1/4 bore but the look like the same reservoir
I did check and they do have fitting adapters so I'm gonna do that
Also got a chrome combination valve with the original thread pitch for the lines we have already , its for disk/disk application and only $50!
Bought one for disk/drum when my combi valve started leaking and worked badass
I can lock up the brakes and stop quicker also helps with the burnouts now I can make clouds taller than trees with the tires
Had a question about driveshaft length

I grabbed a rear end from a 95' impala among with the driveshaft

the impala has a lt1/4l60e

My 77 caprice has a 350sbc/th350(I think, could be a hydrmatic 250)

Anyone who's done this 8.5" 10 bolt swap can list the driveshaft length they ended up with also with their engine/transmission combo

Thanks guys.. I'm really hoping I don't have to cut the 95' driveshaft since its balanced to 140 mph stock
I measured the driveshaft from the u joint ear to u joint ear it was 56"
The trans yoke(?) On the trans side of the drive shaft measured ear to the shaft tip 6 1/4" and yoke shaft (tube with the splines that connect to transmission) 3 3/4"
Th-350 dimensions
6"tail shaft 27 11/16" length
9" tail shaft 30 11/16" length

4l60e dimensions
30 3/4" length

Can u guys list what length driveshaft u ended up with
Newbie





Posts

: 3


Join date

: 2017-10-30

Good work! I realize this thread is old, but still interesting. I still have the original 7.5" in my 1981, but I've had it redone with new bearings, seals, and suspension bushings, added the SSBC disc brake kit, and changed from the stock 2.41:1 gearing to 3.73:1. Still running it open differential though. Ran it behind a 500+ 454 big block for a while, still hasn't blown up, but, I'd definitely love to get myself a nice 8.5" rear end with posi (probably with either 3.42:1 or 3.73:1 gearing. Definitely willing to fix one up, as long as it's not a lost cause. I bought the rebuild kit from Richmond, and it had all the seals and bearings, as well as the 3.73:1 ring and pinion set, and I'd be willing to do the same for the 8.5" if I could get one. Hell, I'd even go for one of those heavy aluminum rear covers with the main bearing preload bolts, and I'd upgrade to a disc brake kit with aluminum calipers! There are so many more aftermarket things available for an 8.5" as compared to the 7.5", and it can surely be done for much less than the cost of a brand new bolt-in Ford 9" from Moser Engineering...
Auto Enthusiast





Posts

: 197


Join date

: 2015-08-19


Age

: 70


Location

: Mid-Michigan

When I got my 8.5, it came from a 1992 Buick Roadmaster.

I tore it down completely. Had it blast, cooked and powder coated.

New 3.73 gears, all the bearings and seals. New axles also.

I went with the stock 11" drums. There are two types. One was 23lbs. The other 17lbs. I chose the later.

All new brake springs, shoes and e-brake cables.

Added poly upper bushings w/new upper/lower control arms and the sway bar.

Not sorry.