Part Wanted
Forum Moderator




Posts

: 956


Join date

: 2013-11-03


Location

: Upstate NY


_________________
1977 Impala Landau x1
1977 Caprice Coupe x3, Sedan x3
1978 Impala Landau x1, Sedan x2, Station Wagon x1
1978 Caprice Landau x1, Caprice Coupe x2
1979 Impala Coupe x2
1979 Caprice Coupe x7, Landau x4, Estate Wagon x1
1981 Impala Coupe x1
1983 Impala Sedan x1
1983 Caprice Sedan x1
1984 Caprice Landau x1, Sedan x1
1985 Caprice Coupe x1, Landau x3, Sedan x4
1986 Caprice Coupe x1, Landau x1
1987 Caprice Landau x1, Sedan x4
1989 Caprice Sedan 9C1 x4
Admin




Posts

: 717


Join date

: 2013-01-14


Age

: 25


Location

: Flint/Detroit, MI - Charlotte, NC

I had looked everywhere for one of these, i wanted one too so i could plug it into the orange connector
_________________
1979 Caprice Sport Coupe, 400hp Vortec 350, Th350, GM 8.5 w/disc brakes, 3.90 gears Detroit Truetrac, 2.5" stainless duals w/ x-pipe, Dynomax race bullets.
1984 Caprice Sedan, 305 motor, 700r4
1978 Caprice Sedan, 305 motor, th350
1993 L99 Caprice, 4.3 v8, 4l60 trans
1972 Ford F-100, 302 windsor, c4 trans
2001 BMW E46 330i, 3.0L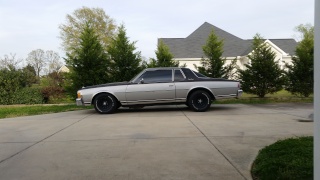 Forum Moderator




Posts

: 956


Join date

: 2013-11-03


Location

: Upstate NY

There's gotta be one out there someplace. I just KNOW there's a retired GM worker with one stashed away in their basement or garage.
LOL, I should contact Mike and Frank, the pickers, and have them keep an eye out for one!

_________________
1977 Impala Landau x1
1977 Caprice Coupe x3, Sedan x3
1978 Impala Landau x1, Sedan x2, Station Wagon x1
1978 Caprice Landau x1, Caprice Coupe x2
1979 Impala Coupe x2
1979 Caprice Coupe x7, Landau x4, Estate Wagon x1
1981 Impala Coupe x1
1983 Impala Sedan x1
1983 Caprice Sedan x1
1984 Caprice Landau x1, Sedan x1
1985 Caprice Coupe x1, Landau x3, Sedan x4
1986 Caprice Coupe x1, Landau x1
1987 Caprice Landau x1, Sedan x4
1989 Caprice Sedan 9C1 x4